free Touch-up pencil radiator print
Water-based, non-yellowing radiator paint as a touch-up pencil for environmentally conscious paint touch-ups and embellishments on radiators. The touch-up stick is odour-reduced and heat-resistant up to 80°C. The radiator paint dries quickly and has good covering power. Ideal for embellishments and paint repairs, without odour and time-consuming assembly and disassembly of radiators. Do not use primer or clear lacquer, as these are not temperature-resistant. Only apply the paint to cold radiators.
belton free touch-up pencil - radiator paint:
For small paint repairs on radiators
Precise work due to paint dab brush
Water-based and odour-reduced
Yellowing and heat resistant up to 80°C
Note: Do not use primer or clear varnish. Paint only on cold objects.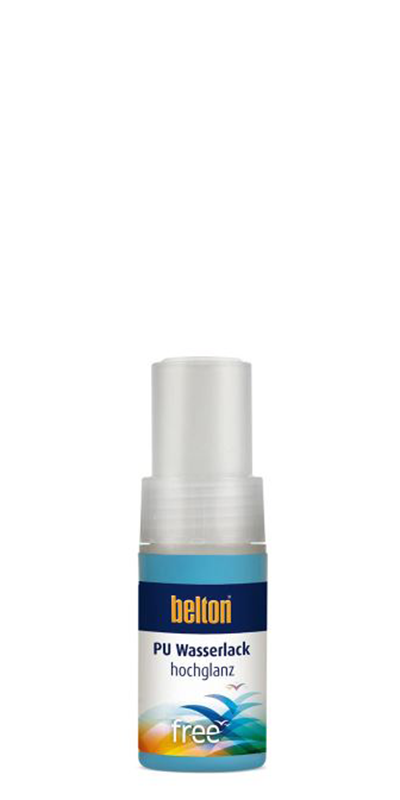 Colour selection
The colours used appear differently on the screen and are therefore not binding for technical reasons.
RAL 9016 (traffic white)
9 ml
Art. No.: 431610
There is no colour selection.
Paint structure
Substrates
Wood / wood materials, ferrous metal / steel, plastics (paintable),
cardboard / paper, concrete, stone, clay, glass, ceramics, polystyrene
1-Layer
belton free spray paint apply directly
Optional
Before: belton free primer / free Touch-up pencil primer
Afterwars: belton free Clearcoat / free Touch-up pencil Clearcoat
Substrates
Non-ferrous metals, aluminium and galvanised steel
2-Layers
1. belton free primer / free Touch-up pencil primer
2. belton free spray paint apply directly
Optional
Afterwars: belton free Clearcoat / free Touch-up pencil Clearcoat
Binding agent base: Polyurethane dispersion water-based
Spray application: Several even thin layers
Layer thickness: ca. 30-50 µm
Spray distance: 15-25 cm
Drying times:
- dust-dry: after approx. 45 min.
- fast-to-handling: after approx. 3 h
- dry-hard: after approx. 24 h
Recoating:
- with itself within 1 hour or after 3 days
Downloads