free primer
Water-based, white primer spray for environmentally conscious spray painting indoors and outdoors. belton free is odourless and almost solvent-free. The belton free primer is used on galvanised steel, aluminium and non-ferrous metals before painting with the belton free paint sprays. Priming is optional on all other substrates, such as e.g. ferrous metals, wood, polystyrene, etc. The product dries quickly, has a high covering power and is economical. The optimum paint preparation for the subsequent top coat.
The advantages of belton free primer spray:
Water-based and odourless
Very good adhesion
High covering power and coverage
Ideal paint preparation for the top coat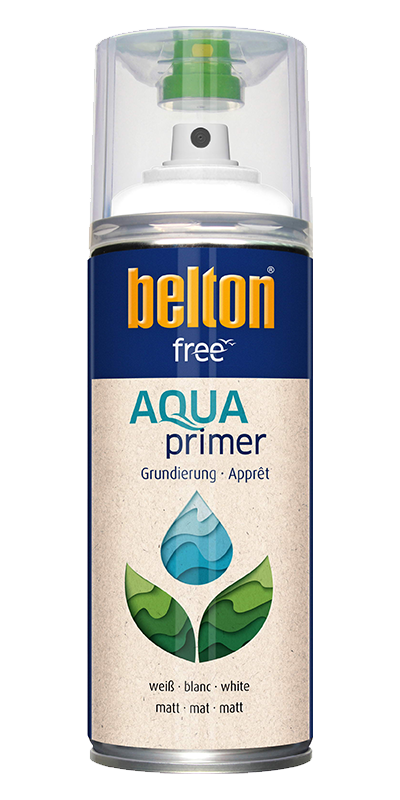 Colour selection
The colours used appear differently on the screen and are therefore not binding for technical reasons.
white
400 ml
Art. No.: 332601
There is no colour selection.
Paint structure
Substrates
Wood / wood materials, ferrous metal / steel, plastics (paintable),
cardboard / paper, concrete, stone, clay, glass, ceramics, polystyrene
1-Layer
belton free spray paint apply directly
Optional
Before: belton free primer
Afterwars: belton free Clearcoat
Substrates
Non-ferrous metals, aluminium and galvanised steel
2-Layers
1. belton free primer
2. belton free spray paint apply directly

Optional
Afterwars: belton free Clearcoat
Binding agent base: Polyurethane dispersion water-based
Spray application: Several even thin layers
Layer thickness: ca. 30-50 µm
Spray distance: 10-20 cm
Drying times:
- dust-dry: after approx. 60 min.
- fast-to-handling: after approx. 3 h
- dry-hard: after approx. 24 h
Recoating:
- with itself within 1 hour or after 3 days
Downloads