Perl effect
Special spray paint for giving painted objects a velvety, shiny pearl effect. Can be used indoors and outdoors on many surfaces. Recommendation: Can be painted over with belton clear coat. A touch of luxury for day-to-day objects.
Silky gloss.
Special spray paint for a luxurious pearl effect
Lends a velvety-shimmering paint effect
Ideal for handicraft and decoration objects
Weather resistant, for indoors and outdoors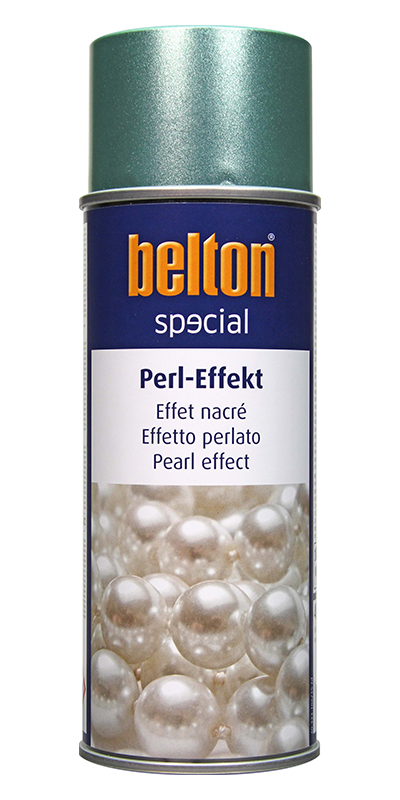 Colour selection
The colours used appear differently on the screen and are therefore not binding for technical reasons.
pasadena blue
400 ml
Art. No.: 323106
pasadena blue
150 ml
Art. No.: 326065
café au lait
150 ml
Art. No.: 326066
pistachio green
400 ml
Art. No.: 323109
pistachio green
150 ml
Art. No.: 326067
amethyst violet
400 ml
Art. No.: 323111
amethyst violet
150 ml
Art. No.: 326068
There is no colour selection.
Properties
Paint structure
► Note: Coat with belton clearcoat for all effects (Art. No. 323 399) to achieve the pearl effect and guarantee long-term protection of the paint coat.
Please check the compatibility of plastic surfaces. All other surfaces, such as e.g. stone, clay, ceramics, glass, rattan/bast, card/paper need to be primed with belton universal primer.
Do not spray onto synthetic resin coated surfaces because the paint may lift.
Binding agent base: Acrylic resins
Spray application: 2-3 gleichmäßige dünne Schicht
Layer thickness: 40-50 µm
Spray distance: 15-25 cm
Drying times:
- dust-dry: after 20 min.
- fast-to-handling: after 60 min.
- dry-hard: after approx. 12 hours
Recoating:
- with itself: at any time
- with all belton paints: at any time
Downloads