Clearcoat for all effects
Special clear coat for long-lasting protection and weather resistance. The perfect finish for coats of belton effect paints. The shiny belton clear coat ensures reliable sealing of the paintwork. Can also be used individually as a transparent coat.
Optimal long-term protection.
Clear coat for all belton effect paints
Long-lasting sealing of the top coat
Weather resistant, for indoors and outdoors
Perfect finish and long-term protection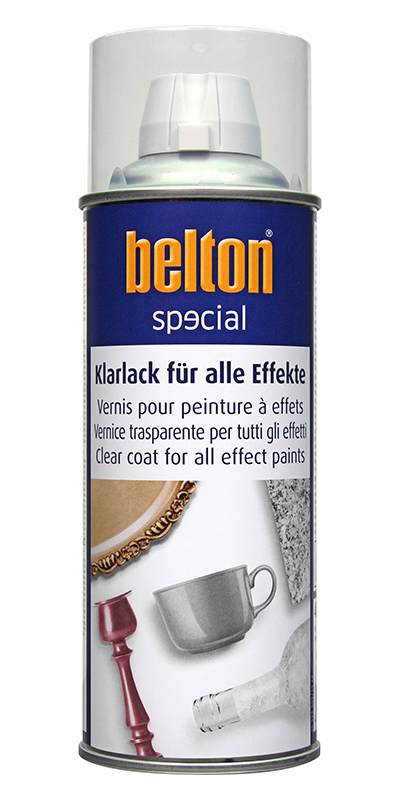 Colour selection
The colours used appear differently on the screen and are therefore not binding for technical reasons.
clear coat glossy
400 ml
Art. No.: 323399
clear coat glossy
150 ml
Art. No.: 326090
There is no colour selection.
Paint structure
► Note: Check the compatibility of plastics first and prime with belton basic plastic adhesion primer. The surface to be painted must be clean, dry and free of grease. Do not spray onto objects coated with artificial resin because the paint may lift.
Binding agent base: Acrylic resins
Spray application: 2-3 gleichmäßige dünne Schichten
Layer thickness: 40-50 µm
Spray distance: 15-25 cm
Drying times:
- dust-dry: after approx. 20 min.
- fast-to-handling: after approx. 60 min.
- dry-hard: after approx. 12 hours
Recoating:
- with itself: at any time
- with all belton paints
Downloads