Metal-effect spray
Decorative effect paint for indoors and outdoors with excellent weather resistance. To achieve unique metallic effects that change the character of the painted objects and give them an elegant look. Recommendation: Can be painted over with belton clear coat.
Shiny results.
For shiny metallic effects
Elegant, solid effect for painted objects
Ideal for hobby, DIY, workshop applications
Weather resistant, for indoors and outdoors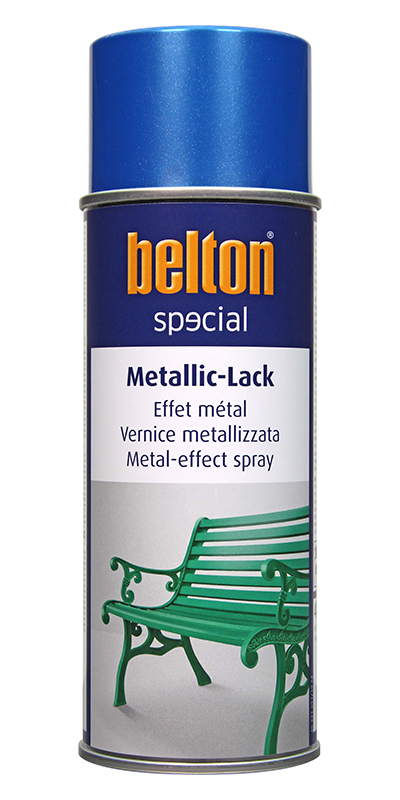 Colour selection
The colours used appear differently on the screen and are therefore not binding for technical reasons.
red
400 ml
Art. No.: 323051
blue
400 ml
Art. No.: 323053
violet
400 ml
Art. No.: 323054
gold
400 ml
Art. No.: 323055
silver
400 ml
Art. No.: 323056
anthracite
400 ml
Art. No.: 323057
copper
400 ml
Art. No.: 323058
green
400 ml
Art. No.: 323052
There is no colour selection.
Properties
Paint structure
► Note: Before priming, clean, degrease and remove any rust from objects that are to be painted. To ensure optimum adhesion of the paint, sand before and after priming. The surface to be painted must be clean, dry and free of grease. Do not spray onto synthetic resin coated surfaces because the paint may lift.
Binding agent base: Nitro combination resins
Spray application: 2-3 evenly thin layers
Layer thickness: 40-50 μm
Spray distance: 15-25 cm

Drying time:
- dust-dry: after approx. 20 min.
- fast-to-handling: after approx. 60 min.
- dry-hard: after approx. 24 hours
Recoating:
- with itself: at any time
- with all belton paints: at any time
- with clearcoat: at any time (belton clearcoat)
Downloads