Diamond effect
Special decorative spray that creates a twinkling diamond effect on various surfaces, indoors and outdoors. Ideal for decorative designs and upgrading. The diamond effect is especially effective on dark surfaces. After 30 min., be sure to topcoat with belton clear coat to achieve weather resistance.
Glitter and glamour.
For a twinkling diamond effect
Ideal for handicraft and decoration objects
Black pre-coat recommended
Weather resistant, for indoors and outdoors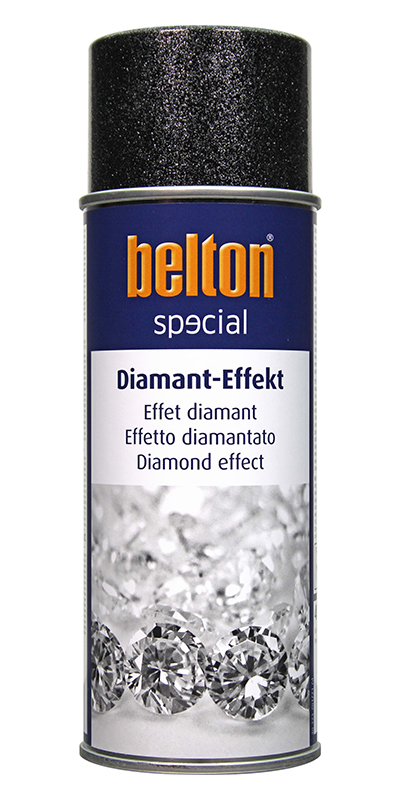 Colour selection
The colours used appear differently on the screen and are therefore not binding for technical reasons.
gold
400 ml
Art. No.: 323201
gold
150 ml
Art. No.: 326060
silver
400 ml
Art. No.: 323202
silver
150 ml
Art. No.: 326061
multi color
400 ml
Art. No.: 323203
multi color
150 ml
Art. No.: 326062
There is no colour selection.
Properties
Paint structure
► Note: Precoat the belton Diamant-Effekt with a topcoat in your desired color. (The darker the color the more intense the diamant effect). Afterwards apply belton Clearcoat for all effects. Please check the compatibility of plastic surfaces. All other surfaces, such as e.g. stone, clay, ceramics, glass, rattan/bast, card/paper need to be primed with belton universal primer. The surface to be painted must be clean, dry and free of grease.
Do not spray onto objects coated with artificial resin because the paint may lift.
Binding agent base: Acrylic resin
Spray application: 2 evenly thin layers
Layer thickness: 40-50 µm.
Spray distance: 15-25 cm
Drying time:
- dust-dry: after approx. 20 min.
- fast-to-handling: after approx. 60 min.
- dry-hard: after approx. 24 hours
Recoating:
- with itself: at any time
- with clearcoat: after 30 min.
Downloads