Road and line marker
Special paintwork for precise line markings on surfaces of all kinds, e.g. asphalt, concrete, earth, lawns, sand etc. Ideal for marking parking spaces, roads, storage rooms and for private purposes. Also suitable for absorbent and vertical surfaces. Clean overhead work thanks to 360° technology. Caution: Do not remove the spray cap!
Exact line markings. 360°
Marking spray for precise line markings
360° technology makes working overhead possible
Weather-resistant, suitable for inside & outdoors
Caution! Do not remove the spray cap!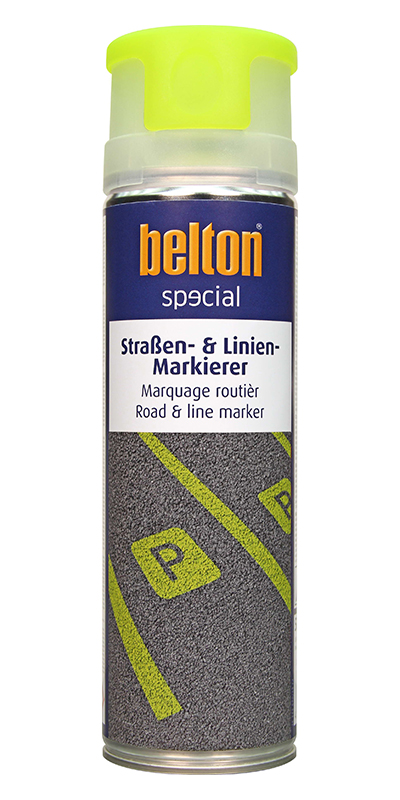 Colour selection
The colours used appear differently on the screen and are therefore not binding for technical reasons.
fluorescent red
500 ml
Art. No.: 323570
fluorescent yellow
500 ml
Art. No.: 323571
signal white
500 ml
Art. No.: 323572
There is no colour selection.
Properties
Paint structure
Asphalt / Concrete / Earth / Lawn
1. belton Road and line marker
► Note: Overhead working possible. Also for vertical surfaces because the paint dries quickly and does not drip.
Binding agent base: Special binding agent combination
Spray application: as needed
Layer thickness: ca. 20 – 25 μm per layer
Spray distance: 15-25 cm
Drying times:
- dust-dry: after approx. 20 min.
- fast-to-handling: after 90 min.
- dry-hard: after approx. 12 hours
Recoating:
- with itself: at any time
- with all belton paints: at any time
Downloads