Radiator paint
Yellowing and temperature-resistant spray paint up to +80 °C. For upgrading and painting all kinds of radiators, towel warmers, warm water pipes, thermal units etc. Only paint cold objects. Do not prime or apply a clear coat, as these are not heat resistant. Ventilate rooms well during the painting process.
Heat-resistant up to 80 °C.
Heat-resistant, yellowing-resistant up to 80 °C
Ideal for radiators, towel warmers etc.
Do not prime or use clear coat
For indoors, only paint cold radiators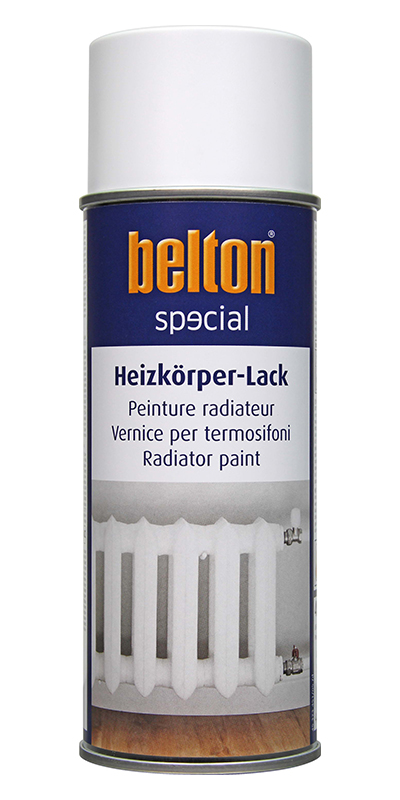 Colour selection
The colours used appear differently on the screen and are therefore not binding for technical reasons.
pure white
400 ml
Art. No.: 323451
cream white
400 ml
Art. No.: 323452
grey white
400 ml
Art. No.: 323453
There is no colour selection.
Properties
Paint structure
Ferrous metals / Steel / Radiator
1. belton special Radiator paint
► Note: Do not use primers because they are not temperature resistant .
Do not spray onto synthetic resin coated surfaces because the paint may lift. Only paint objects when cold.
Binding agent base: Nitro combination resins
Spray application: 2-3 evenly thin layers
Layer thickness: 40-50 µm
Spray distance: 15-25 cm
Drying times:
- dust-dry: after approx. 20 min.
fast-to-handling: after approx. 60 min.
dry-hard: after approx. 12 hours
Recoating:
- with itself: at any time
- with all belton paints: at any time
Downloads