Liquid Chrome effect paint
The stylish and elegant Liquid Chrome effect is created by means of a 2-layer structure: After the Liquid Chrome base coat black is applied, the weather resistant belton Liquid Chrome effect paint, usable indoors and outdoors, is applied. Important! Do not coat with clear coats!
Do not coat with clear coats.
Elegant, metallic chrome silver effect
For a special fluid chrome look
Ideal for decorative and creative paintwork
Do not coat with clear coats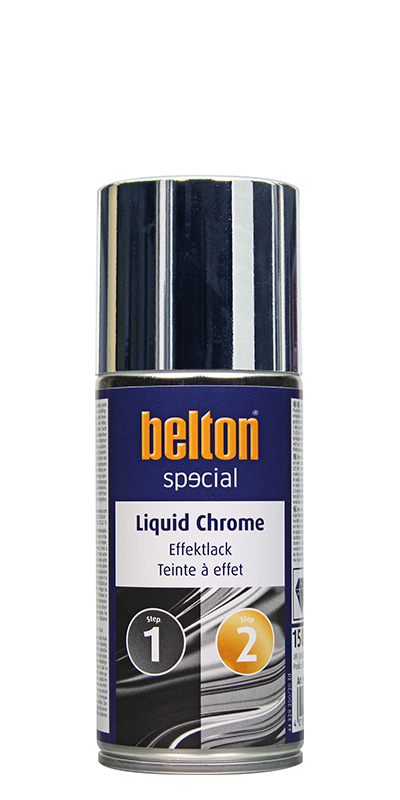 Colour selection
The colours used appear differently on the screen and are therefore not binding for technical reasons.
liquid chrome
150 ml
Art. No.: 329200
There is no colour selection.
Properties
Paint structure
► Note: The belton Liquid Chrome effect can only be achieved by priming first with belton special basecoat black (Art. No. 329 001) (observe paint structure 1-2). Do not spray onto objects coated with artificial resin because the paint may lift.
Plastic parts (e.g. polypropylene, polyethylene) must be primed with belton basic plastic adhesion primer (Art. No. 323 505).
May NOT be coated with clearcoat because otherwise the special chrome effect will be lost.
Binding agent base: Special acrylic resin
Spray application:
- Step 1: 2-3 evenly thin layers
- Step 2: 2-3 evenly thin layers
Layer thickness:
- Step 1: 40-50 µm
- Step 2: 30-40 µm
Spray distance: 15-25 cm
Drying times:
- Step 1: belton special basecoat: allow to dry ca. 20 Min.
- Step 2: belton special Liquid Chrome:
- dust-dry: after approx. 20 min.
- fast-to-handling: after approx. 60 min.
- dry-hard: after approx. 24 hours
Recoating:
- with itself: at any time
- Please follow both Steps!
Downloads