Grill spray paint
To enhance the appearance and function of barbecues that are exposed to extreme heat and corrosion. Not suitable for grilles. The special paint has a high surface hardness and is heat-resistant up to 650°C. The paint only hardens at temperatures above 250°C. Heat up slowly. Do not prime or apply a clear coat, as these are not heat resistant.
The barbecue season can begin.
Special spray paint for barbecues, heat-resistant up to 650°C
Also, for other objects exposed to temperatures
High surface hardness, not suitable for cooking grates
Weather resistant, for indoors and outdoors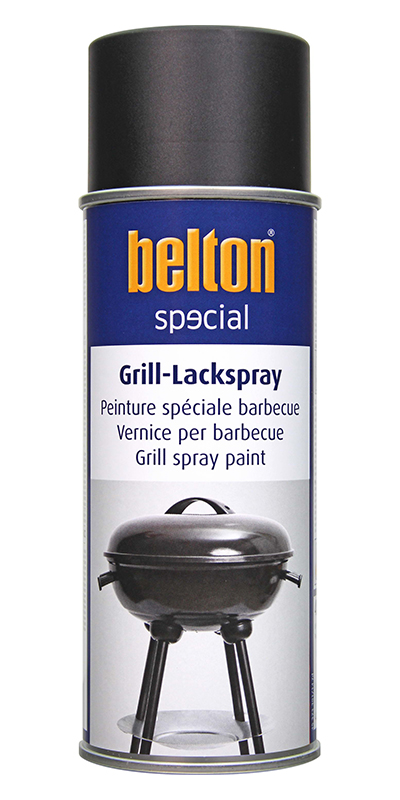 Colour selection
The colours used appear differently on the screen and are therefore not binding for technical reasons.
black matt
400 ml
Art. No.: 323460
There is no colour selection.
Properties
Paint structure
Ferrous metals / Steel / Grill
1. belton special Grill spray paint
► Note: Do not use primers because they are not temperature resistant. Paint only hardens at 250°C. Heat up slowly.
Do not spray onto synthetic resin coated surfaces because the paint may lift. Only paint objects when cold.
Binding agent base: Silicon resins
Spray application: 3-4 evenly thin layers
Layer thickness: 30-40 µm
Spray distance: 15-25 cm
Drying times:
- dust-dry: after approx. 30 min.
- fast-to-handling: after approx. 60 min.
- dry-hard: Paint only hardens at temperatures above +250 °C.
Heat up slowly.
Recoating:
- with itself: at any time
Downloads