Gold effect
This effect paint gives objects a golden look in a quick and easy manner. Lends smooth surfaces an elegant, metallic, shiny gold look. Especially suitable for indoors. Not abrasion-resistant. Do not coat with clear coats.
The elegant decorative idea.
Metallic gold effect paint
Elegant gold effect 'for a small price'
Ideal for handicraft and decoration objects
Not abrasion-resistant, suitable for indoors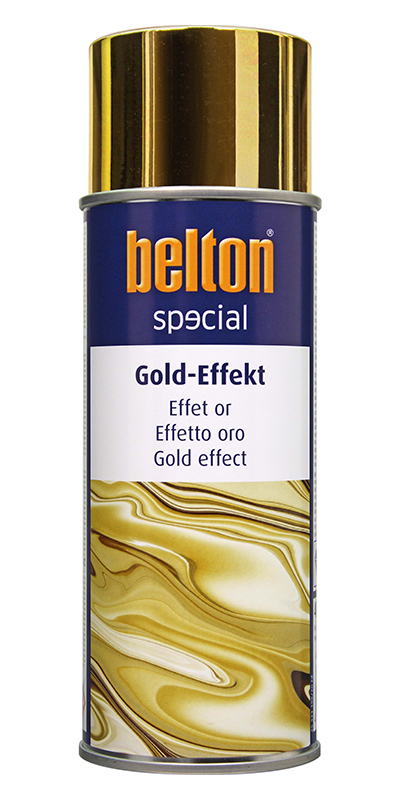 Colour selection
The colours used appear differently on the screen and are therefore not binding for technical reasons.
Gold effect
400 ml
Art. No.: 323199
Gold effect
150 ml
Art. No.: 326021
There is no colour selection.
Properties
Paint structure
► Note: Do NOT apply a clearcoat, because otherwise the special gold effect will be lost.
Please check the compatibility of plastic surfaces. All other surfaces, such as e.g. stone, clay, ceramics, glass, rattan/bast, card/paper need to be primed with belton universal primer. The surface to be painted must be clean, dry and free of grease.
Binding agent base: Acrylic resin
Spray application: 1 evenly thin layer
Layer thickness: 40-50 µm
Spray distance: 15-25 cm
Drying times:
- dust-dry: after approx. 20 min.
- fast-to-handling: after approx. 60 min.
- dry-hard: after approx. 24 hours
Recoating:
- with itself: at any time
Downloads