robust Clearcoat
belton robust clear coats are high-quality colourless spray paints on a synthetic resin combination basis to seal the paintwork done with belton robust in the long term. Ideal for outdoor use, but can also be used indoors. For a long-lasting and colour-stable painting result. The belton robust clear lacquer can also be used separately as a colourless coating.

The advantages of belton robust clear lacquer:
Universally applicable
Very good flow
Weather and UV resistant
Extra resistant, long durability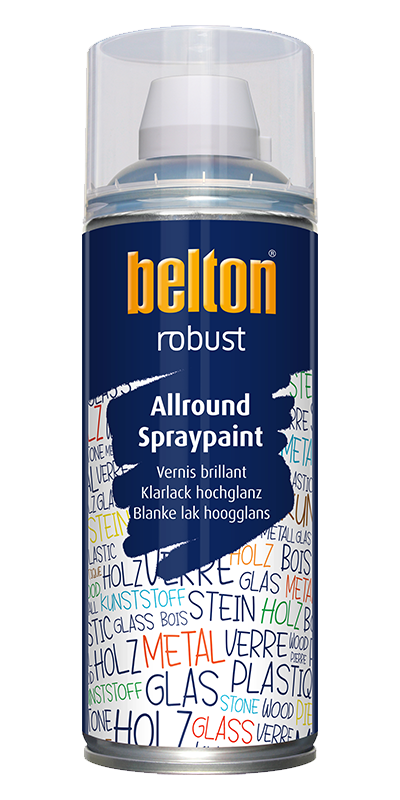 Colour selection
The colours used appear differently on the screen and are therefore not binding for technical reasons.
clear coat transparent
400 ml
Art. No.: 322401
There is no colour selection.
clear coat transparent
400 ml
Art. No.: 322402
There is no colour selection.
Paint structure
► Note: Please observe the recoating information and times due to the artificial resin paint quality. Please check the compatibility of plastic surfaces. All other surfaces, such as e.g. stone, clay, ceramics, glass, rattan/bast, card/paper need to be primed with belton universal primer.
Binding agent base: Artificial resin paint
Spray application: 2-4 evenly thin layers
Layer thickness: 70-80 µm
Spray distance: 15-20 cm
Drying times:
- dust-dry: after approx. 20 min.
- fast-to-handling: after approx. 7-8 hours
- dry-hard: after approx. 48 hours
Recoating: Can be painted over with belton robust clearcoat within 6 hours because a later recoating could cause the first coat of paint to lift.
Downloads