Frost flower effect
Water-based effect paint to create an individual frost flower effect, like frozen ice. For smooth surfaces, e.g. glass, metal and paintable plastics. The frost flower effect can change depending on the level of humidity. The frost flower effect can be conserved with clear coat. If no clear coat is applied, the paint can simply be wiped off. Recommendation: If desired apply belton clear coat after 60 minutes.
Transformation into an ice crystal look.
Individual frost flower effect, like frozen ice.
The effect becomes visible as it is drying
Clearcoat conserves the frost flower effect
For smooth, non-absorbent indoor surfaces.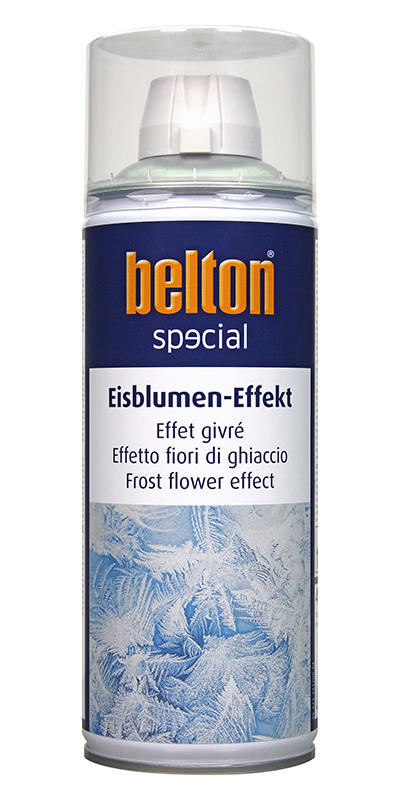 Colour selection
The colours used appear differently on the screen and are therefore not binding for technical reasons.
frosted flower effect
400 ml
Art. No.: 323471
There is no colour selection.
Properties
Paint structure
► Note: If the object which needs to be painted (e.g. glass) is pre-painted in colour, this colour shines through after painting with the frost flower effect. Depending on the choice of colour, very special, individual colour effects can be achieved. Please check the plastic surfaces for compatibility. If necessary, prime all other surfaces such as stone, clay, ceramic, glass, rattan/bast, card/paper with the belton universal primer. Do not spray onto surface coated with artificial resin because this might cause the paint to lift. The surfaces must be clean, dry and grease-free before they are painted.
Binding agent base: Water thinnable polyurethane dispersion
Spray application: 2-3 evenly thin layers
Layer thickness: ca. 30-40 µm
Spray distance: 15-25 cm
Drying times:
- Dust dry: after approx. 20 min.
- Dry to touch: after approx. 60 min.
- Completely dry: after approx. 24 hours
Recoating:
- with itself: at any time
- with belton clearcoat after 60 min.
Downloads