perfect Clearcoat
belton perfect is a highly pigmented premium paint spray for all paintable objects, indoor and outside. With the belton perfect clear coat,, the paintwork done with belton perfect is sealed for the long term. Simple handling and convincing results. Can be used on almost all surfaces.
belton perfect clear coat:
Fast drying
Very good flow
Durable protection
Can also be used as a colourless coating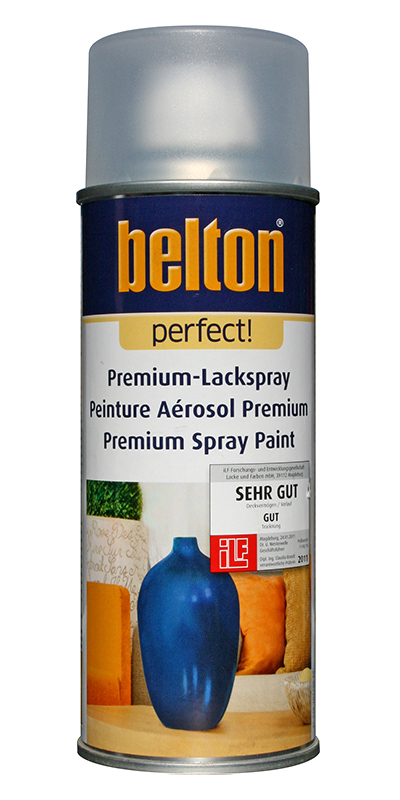 Colour selection
The colours used appear differently on the screen and are therefore not binding for technical reasons.
clear coat transparent
400 ml
Art. No.: 328101
clear coat transparent
150 ml
Art. No.: 328001
There is no colour selection.
Paint structure
► Note: The smaller the spray distance, the higher the working speed must be when spraying, only then can fine, filigree lines be spray-painted without problems. Please check plastic substrates for compatibility. All other surfaces, e.g. stone, clay, ceramics, rattan/bast, cardboard/paper must be primed with belton universal primer. Do not spray on synthetic resin painted surfaces as the paint may lift.
Binding agent base: Nitro combination resins
Spray application: 2-3 evenly thin layers
Layer thickness: ca. 40-50 µm
Spray distance: 15-25 cm
Drying times:
- dust-dry: after approx. 20 min.
- fast-to-handling: after approx. 40 min.
- dry-hard: after approx. 24 hours.
Recoating:
- with itself: at any time
Downloads